ALL PROCEEDS GO TO TWO FALLEN HERO FAMILIES!
The 2020 Fallen Heroes Hockey Tournament is an event dedicated to raising money for two families of Fallen Heroes. Both families are in need of our help.
SPC Brad Roche passed from combat-related injuries and left his wife and 3 kids. Their son Mikey has an inoperable brain tumor and has been in and out of the hospital for most of the last two years.
SGT Robert Barrett was Killed In Action (KIA) and his family is a Gold Star Family. His niece (toddler) has a rare disease that the doctors are trying to pinpoint and they have been in and out of the hospital most of this year in an effort to find out what it is and get her help.
America's Fallen Heroes has dedicated this event to raise as much money as we can for these two families in hopes for them to get the help they need. Please join us by donating to them and coming to the event.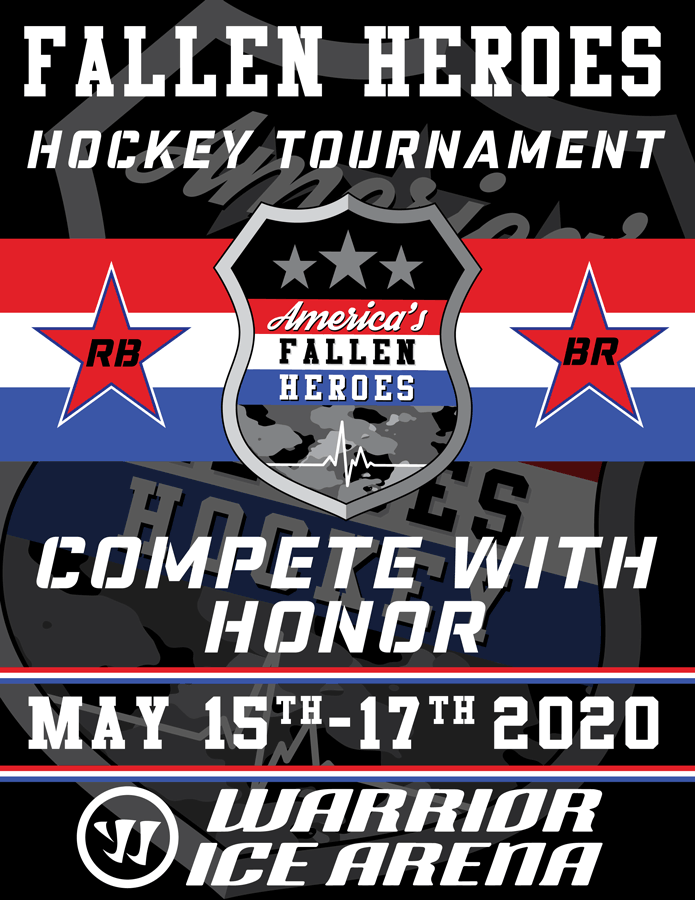 Tournament Dates May 15th – 17th Starts Friday
Games will be held at the Warrior Ice Arena
Registration Deadline is April 17th, 2020
$1995 per team with a $200 NON-REFUNDABLE deposit
Sponsors for teams can write all checks out to America's Fallen Heroes to receive a tax benefit.
Portions of Proceeds will Benefit America's Fallen Heroes
NCAA Rules with Blueline Hybrid Icing
3 -12 Minute stop time periods
3 Game Guarantee
1 Game Friday, 2 Games Saturday, Playoffs Sunday
Top 4 teams from each division will move on to playoff rounds
Divisions:

A Division
B Division
C Division
D Division
Sled Hockey